One way of promoting a business and spreading the word about the services or products it has to offer, is to choose branded corporate gift to give to clients and customers. The right gift is important, as it represents the brand and company image. We've all seen branded corporate gifts, and they usually consist of branded drinking cups, clothing or novelty stationary items. For branded corporate gifts that create the right impression, choose something that people can use with a sport or hobby. A golf divot tool is a great gift to give as there are many people who enjoy a game of golf, and golf is a sport that is often played by business people.

The Greenkeeper Pro divot tool takes the work out of divot repair, making the job faster and more efficient. Professional greenkeepers may have to make many repairs in a day, and this can be stressful on the muscles and joints, as well as time-consuming. The Greenkeeper Pro divot tool has a long handle, so no bending down is required to reach the grass. It is lightweight and easy to carry, has durable interchangeable heads with steel pins, and also looks great installed at the green edge for players to use too! Take the work out of divot repair with a Greenkeeper Pro divot tool!
Get a quote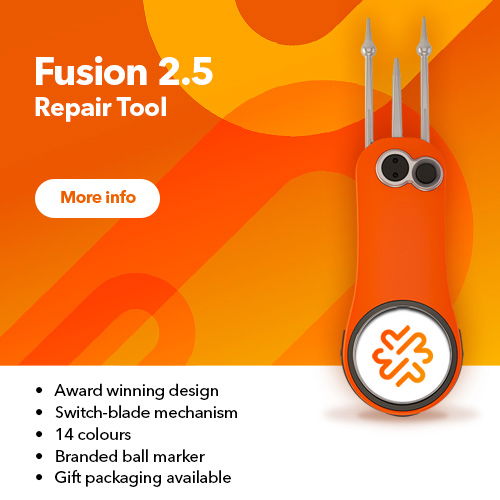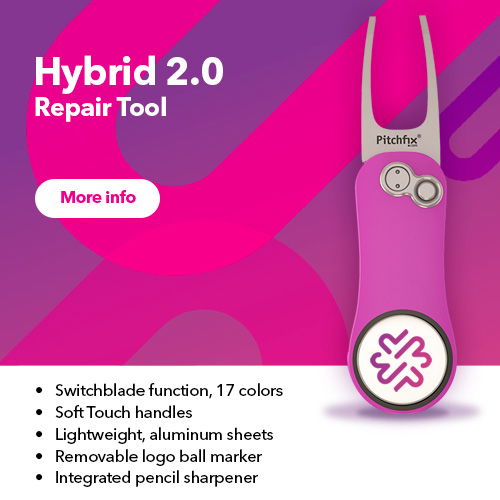 If you are looking for new ways to attract more clients to your business, have you ever considered golf gadgets branding? This is where your brand logo is added to our range of golf tools, giving you a quality branded gift that you can use for networking days, and more. When your brand is seen on a top quality golf tool, it gets noticed! Golf tools are also often shared on the golf course, so your brand will be in front of potential new clients. Each golf gift is neatly presented and ready to hand out. Want to know more about golf gadgets branding? Call us now!

A divot tool is a useful piece of golfing equipment that is used to repair the damage caused the grass on the course. Golfers often swing their clubs too close to the ground and scrape the turf, and the golf balls can leave marks on the putting green that can affect how well the ball rolls. All golfers are recommended to have a golf tool with them as they play so that they can fix any divots they see. The divot tool has two prongs that are used to carefully push the outside edges of the divot back together to close the gap and fix the mark. The prongs fold back into the casing for safety when not in use and this where a company brand or logo can be put. A great gift that people will enjoy using, combined with a brand logo, gives a good impression of a business. As more people see your branded divot tools on the course, more custom and potential clients are aware of your business. Golf divot tools are ideal branded corporate gifts, giving you an easy way to promote your company and what it offers.
Get a quote
Are you looking for fun and effective ways to promote your business? Personalized golf gifts branding is where your logo is displayed on our golf tools and accessories, giving you a promotional gift worth giving! Any golf fan would be happy to own a golf tool, and when your brand logo is on it, it will get noticed. Each golf gift comes neatly presented and ready to hand out. Give them out at networking events to bring in new clients, or send o your existing clients as a thank you. Ready to grow your brand? Call us today for more about personalized golf gifts branding!
Get a quote