If you repair a pitchmark badly it can actually do a lot more harm than if you had just left it alone, so it's essential all golfers know how to repair a pitchmark correctly.
Un-repaired or poorly repaired pitchmarks are a major nuisance for any golfer!
If not repaired correctly within a few hours, root and stem damage can take up to 2 weeks to recover, or indeed kill the pitchmark area completely. It takes seconds to save your greens weeks of recovery!
It's also infuriating for a golfer to see a perfect putt spoilt by being deflected by a pitchmark indentation.
Despite this, it is alarming how many golfers seemingly neglect to repair pitchmarks, don't know how to repair a pitchmark in the correct way, or perhaps think they are not allowed to because of the Rules of Golf.
A pitchmark repaired correctly helps the green to repair faster (14 times faster in fact) and removes any residual / noticeable marks completely within 24 hours. It's fast, easy and good golf etiquette!
How to repair a pitchmark correctly.
Here are some tips on how to effectively repair a pitchmark.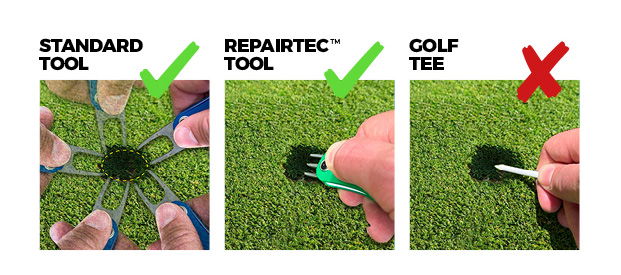 Standard Repair (with a bladed tool)
Push the blade of the tool into the edge of the pitchmark at a 45 degree angle and then push the turf towards the centre of the indentation and then retract the repair tool. Repeat this 4 or 5 times and then tap down with your putter or shoe. Once the green receives it's next cut, the pitchmark should be almost un-noticeable.
Repairtec™ – Faster and more efficient
Alternatively, if using a tool featuring Repairtec™ shaped prongs from Pitchfix it's an even faster and easier process.
Our patented tear-drop shaped prongs have been designed to lift the turf in the centre of the pitchmark, un-coiling the compressed root structure, with minimal damage and producing excellent results every time.
Simply push the tool at an angle, fully into the centre of the pitchmark, lift until the turf is flush with the surrounding green, remove, tap down and the repair is complete. Simple as 1,2,3!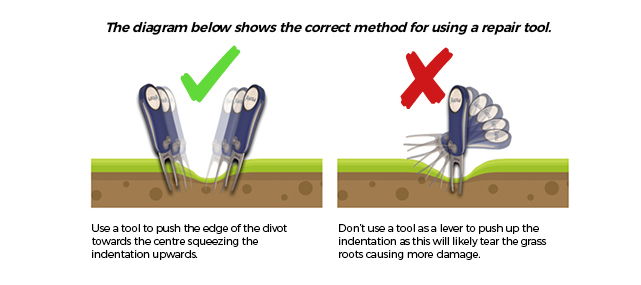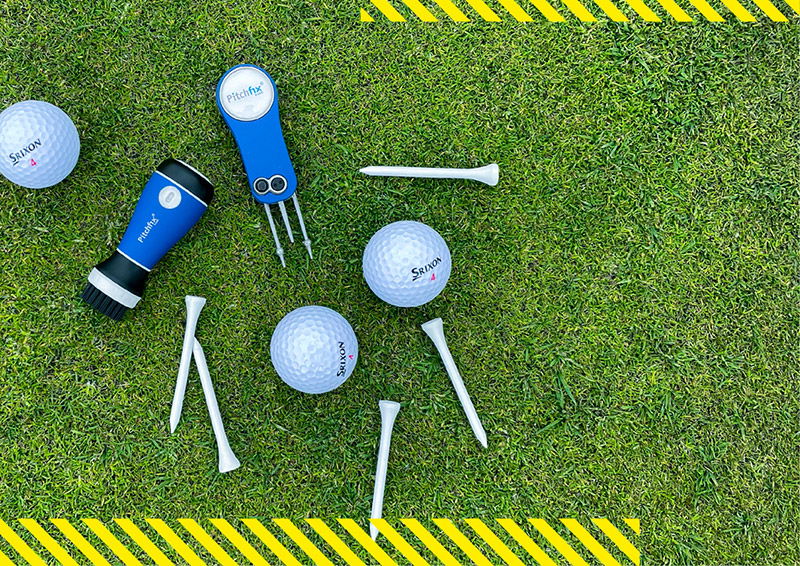 WHAT CAN WE DO:
Make sure every player owns a professional tool.


Make sure no-one tee's off without checking that they
have a tool ready to use. (Consider using notice board posters or instructional video screens)


Ensure all players know how to repair their own pitchmarks correctly (without causing more unintentional damage).


Ensure all players are motivated bY the benefits to seek and repair their own pitchmarks and anyone elses unrepaired pitchmarks that they might find.
HOW DO WE DO THAT:
Encourage retailers to stock a range of professional tools and merchandise them prominently on a counter frequently seen by customers and course visitors.


Remind all visitors to check that they have a tool before they play and Know how to use it, ideally when they pay their green fees.


At the start of the season, email your members about the importance of repairing pitchmarks, offering simple advice on how to do it, where to buy a professional tool from and warn against using tees as an alternative repair method.


Ensure all staff use and are seen to use a professional tool, showing best practice and resisting using tees or other methods of repairing pitchmarks.


Educate all new members on the importance of owning and knowing how to use a pitchmark repair tool as part of their welcome pack / induction.


Include a session on teaching players how to repair greens within clinics, especially for new players and juniors.


Encourage corporate golf hosts to use a repair tool for a courtesy gift for guests and to remind all visitors to respect the greens as they play.


Consider using Pitchfix gift sets containing a repair tool for annual membership gifts / incentives. A great excuse to tactfully remind members of the need to repair pitchmarks.


Divot parties are a new trend where members are invited to help walk the course and repair divots and pitchmarks in a relaxed manner.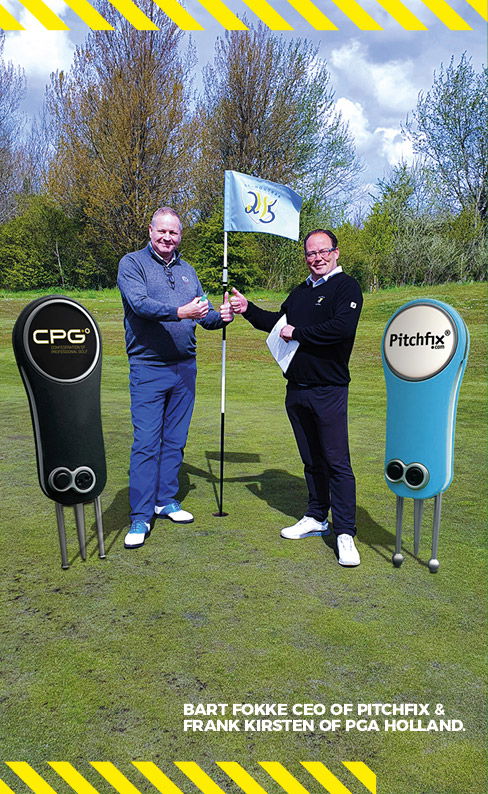 The Confederation of Professional Golf (CPG) has announced a new partnership with Pitchfix, a global leader in the design and supply of golf accessories, with a campaign that promotes good golf etiquette and course-care.
#CaringForCourses helps PGA professionals, as the game's custodians, to drive awareness around the impact that golfers' play has on the conditioning of golf courses and to minimise this in the future.
Chief Executive of the CPG, Ian Randell, said: "Our aim with this campaign is to improve every golfer's understanding of why course care is important so that the next time they play, they can positively contribute to the condition of golf courses and maximise their own enjoyment and everybody else's while playing."
Pitchfix is the world's leading name in ball-mark repair tools and golf gifts - ideal for golf retail ranges or using as a marketing incentive, reward or presentation gift when organising golf events for private parties, events or societies.
The award winning range of hand-held repair tools are designed for golfers who appreciate high quality craftsmanship. All of the Pitchfix range can all be customised with your own logo, brand icon or message, creating a memorable promotional tool or unique gift.
If you want a range of items for your golf shop to feature your logo, please your customers and promote pitchmark repairs, Pitchfix can help.
If you need ideas for incentives and rewards to help increase memberships or players visiting your venue, the Pitchfix range make perfect marketing gifts that your recipients will love to receive and to use, and something that is a fabulous representation of your company or venue.
Pitchfix agents across the world are available to help with product sales, information and demonstrations. Find out more at www.pitchfix.com or send us an e-mail with your request and your logo in high definition PDF/PNG and we will provide you with free artwork showing you a range of our products customised with your logo.