Golf gifts for dad are always popular, but how do you get a dad something that he will really appreciate? The best sort of gifts are the ones that make a person feel special, and if it is something to do with their favorite sport, then it's a winner!

The Greenkeeper Pro divot tool makes divot repair a joy! When you have to repair a divot or brown spot in the grass, it means bending or kneeling. This can create aches and strains in the muscles, and when you have to make many repairs, it can mean feeling sore at the end of the day. The Greenkeeper Pro is the solution! The long handle means no more bending down to fix divots! Instead, they can be repaired as you stand. It has RepairTechTM pins on interchangeable heads, so will work in any type of soil. Sandy, loam or clay, wet or dry, the Greenkeeper Pro does a good job every time!
Get a quote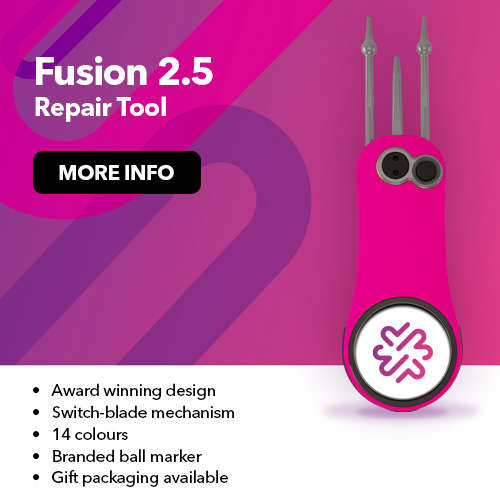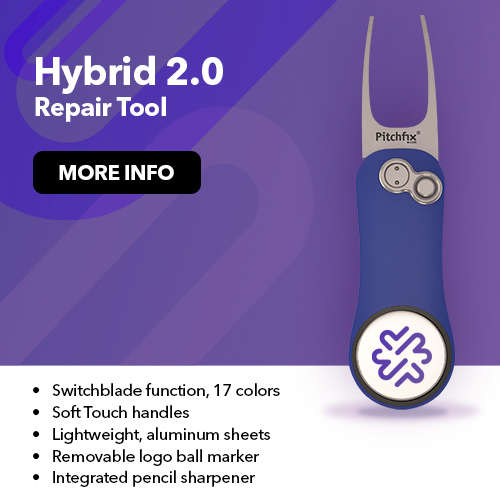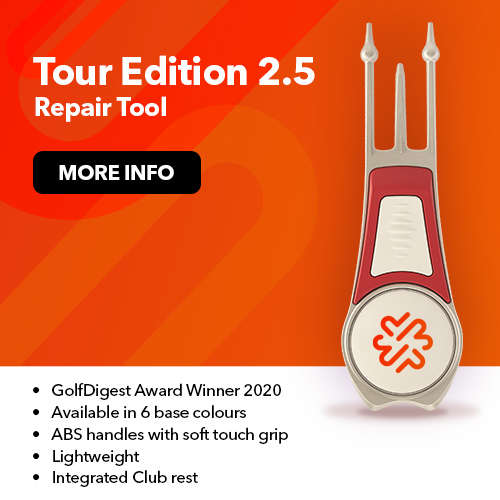 A business that has a good promotional gift gets noticed for the right reasons. It is a great marketing tactic to show thanks to your existing clients, as well as getting your business seen. The promotional gift you choose should reflect your business. That is why you should go for something that is well-made and something that people will enjoy owning. We provide golf gadgets branding on our golf tools, so you can have your logo or colors shown on them. We also provide smart gift packaging, so you get neatly presented gist that are ready to hand out. Call now to see how we can help with your branding!

All golfers have felt the frustration of lining up a putt, taking the shot and the watching the ball meet a divot in the grass and go off line. A divot tool is something that all golfers are encouraged to carry with them as they play, so they can fix any marks in the grass that they see. A golf divot tool consists of two prongs that are inserted into the turf around the outside edges of the mark. The edges are gently pushed towards the middle to close the gap and this technique helps to repair the mark while leaving a healthy root structure to the grass. Most men like a practical tool or gadget, so divot tools make great golf gifts for men. It is lightweight and easy to put in a pocket or on a key ring, it is inexpensive compared to other golf gifts and it can be personalized with a message, smiley or even a brand or logo. A golf divot tool is a useful gift that any golf player would appreciate using every time when out on the course.
Get a quote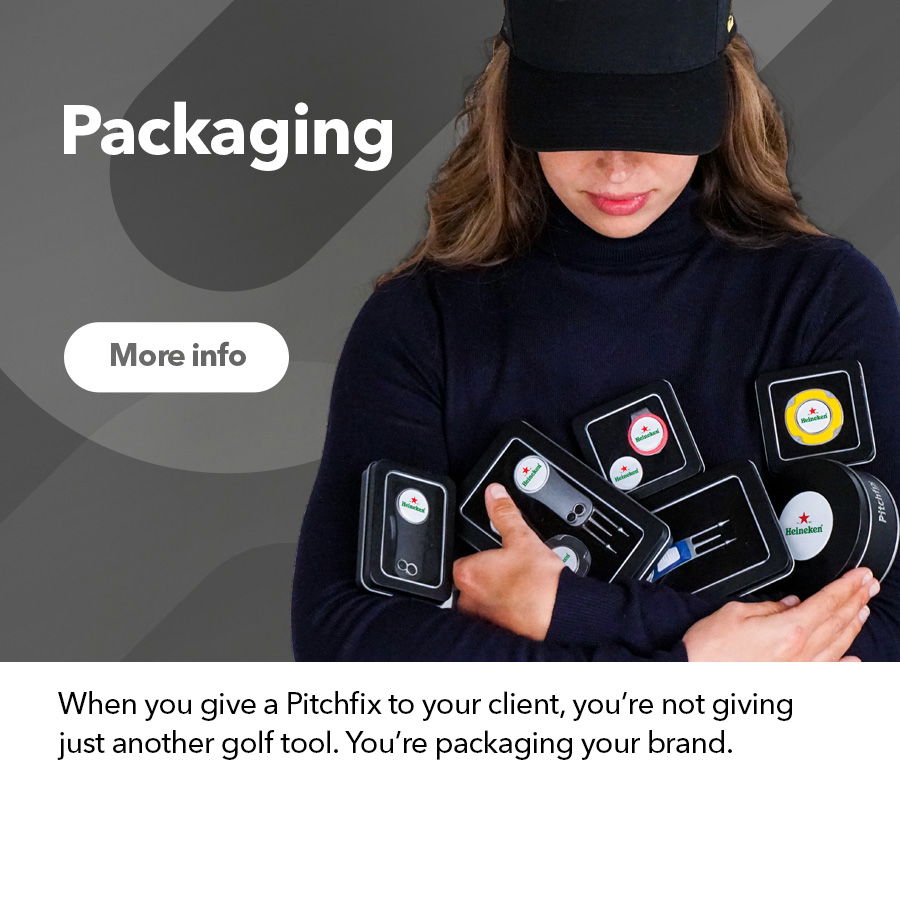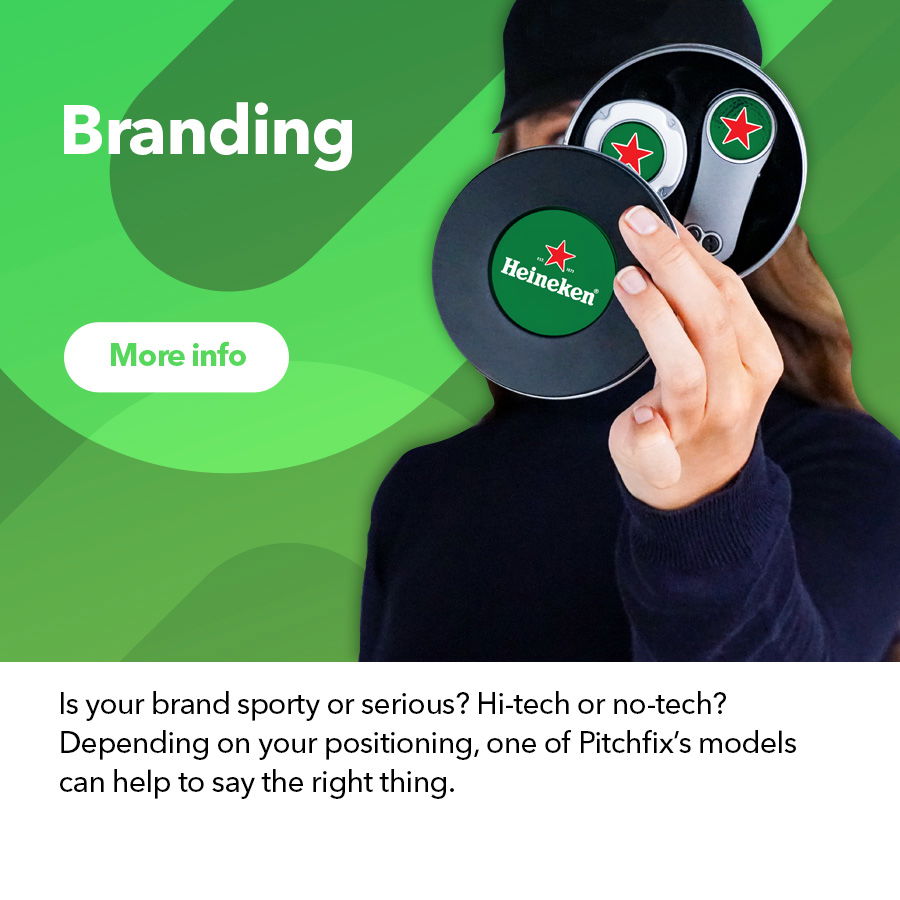 Traditional divot tools have two prongs, and to repair a divot, the prongs are inserted into the grass. Then the grass is carefully lifted to level it. The right technique is needed to do this, otherwise it can cause damage to the grass roots. Often though, golfers do not use the right technique, so what was a divot in the grass turns into something that needs more repair work.

Pitchfix have designed a three pin divot tool, and this has sloved this problem. The three pins are just poked in and out of a divot a few times and the grass is lifted. No technique needed! Pitchfix are some of the most talked about divot tools, and all golfers want one. They also come in a choice of colors and you can add a special message! So if you are looking for golf gifts for dad, then see the divot tools by Pitchfix.

It can be difficult to decide on the right promotional gift for your business. It is something that people will associate with your business, so it should be something that is well-made and useful. Pitchfix are known for innovative golf tools, and now we provide personalized golf gifts branding on our divot tools and ball markers. Having your business logo displayed on our tool means that you get to give a great quality promotional gift that is sure to get noticed. If you want to know more about how personalized golf gifts branding can help promote your business, call our team now!
Get a quote