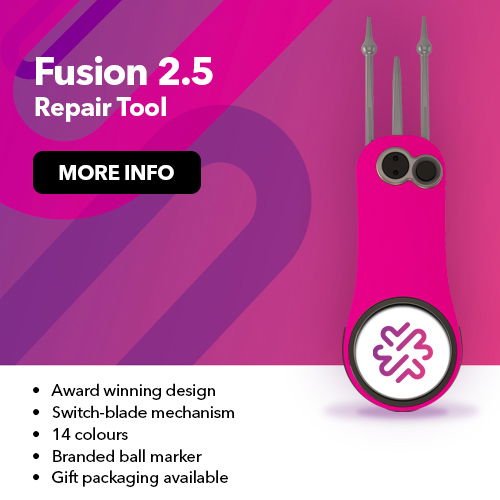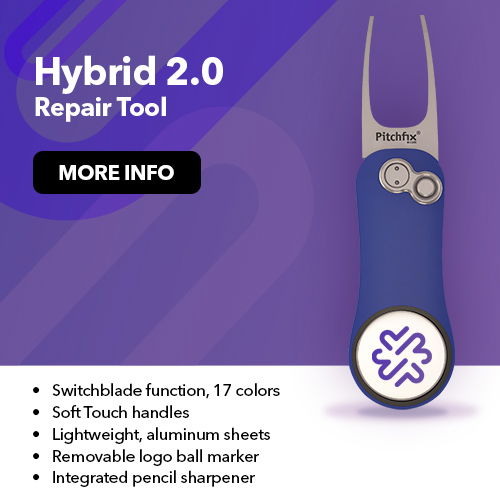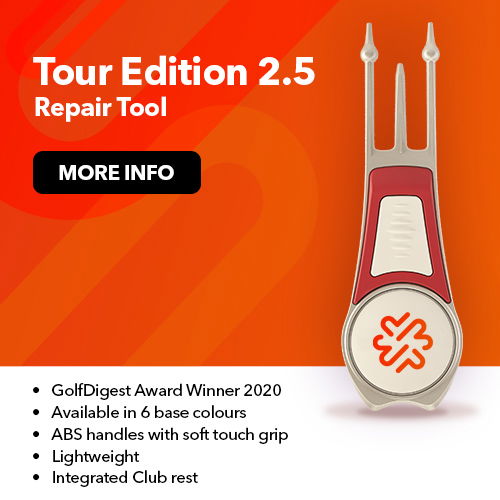 Enhancing Your Golfing Experience with a Switchblade Divot Tool
If you want to cool golfing gadget either for yourself or to give as a gift, it doesn't get better than a switchblade divot tool. It has two metal prongs that swivel out of its casing, like a switchblade. The prongs are used to repair the damage to the turf on the golf course, usually caused by golfers contacting the grass with their clubs or by golf balls landing on the putting green. The prongs of the switchblade divot tool are inserted into the turf at the outside edges of the mark. The edges are then carefully pushed back towards the center to close the gap. This technique is used so that the mark is repaired with no further damage caused to the grass roots. Golfers should carry divot tools with them on the golf course so they can fix any damage they see, helping to keep the course in good condition for everyone.

If you are looking for a fast and efficient way to make divot repairs, you found the right place! For professional greenkeepers, divot repair is an ongoing job. Players may also make many repairs during their round. Fixing divots means bending down to reach the grass, and that can be a strain on the muscles and joints. The Greenkeeper Pro divot tool has changed the way divots are repaired, thanks to the long handle. No more bending or kneeling, divots can now be repaired while standing! Interchangeable heads can be swapped to make effective repairs in any soil type or condition, and the durable steel pins are made to last! Try a Greenkeeper Pro today!
Looking for a good promotional gift that will get your brand in front of your dream clients? Golf gadgets branding is the answer! You can have your business logo displayed on our range of divot tools and ball markers, so you have a branded gift that will get noticed. These useful tools are often shared on the golf course, maximising your brand exposure. Each golf gif come neatly presented and ready to hand out. Use them for networking days, or to your existing customers to bring in more business. For a hassle-free way to get a fantastic promotional gift, call today!


The Greenkeeper Pro divot tool is an innovative design that makes light work of green repair. The spring loaded interchangeable heads expertly fix divots and brown spots on a variety of greens, including wet or dry soils. The long handle means that there is no more bending down to grass level in order to fix a divot, making the tool ideal for professional green keepers or course marshals. You can also simply keep them at the edges of greens for players to use. The ergonomic design of the Greenkeeper Pro divot tool make it a pleasure to use, as well as enhancing the professional look of any golf course.


The prongs fold back into the casing for safety when not in use, and the casing can be personalized with a special message, funny joke or smiley. This makes it a great gift idea for any golfer or anyone who enjoys the sport. It can even have a brand or logo shown on it, making it a good idea for businesses to give to potential clients, and an effective way of promoting products and services. Divot tools are often used on the golf course, so a branded one is sure to be seen by many players. A switchblade divot tool is easy to carry in a pocket or on a key ring, and they are not expensive to buy. Because it is a useful, cool golfing gadget, a switchblade divot tool is something that any golfer would be happy to receive and be seen using on the golf course.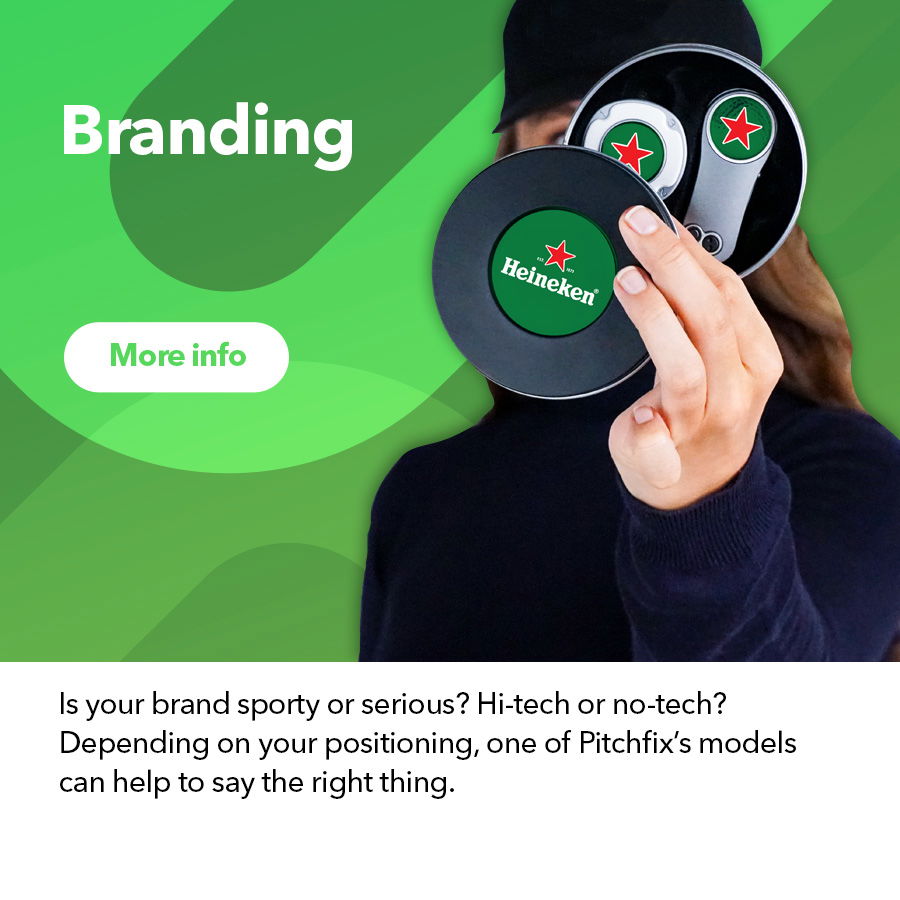 Promotional Golf Gifts by Pitchfix
For a fun promotional gift, personalized golf gifts branding is the answer! So often, finding a good promotional gift is a challenge. It needs to be top quality, but also cost effective. Personalized golf gifts branding is where your brand logo is shown on our range of golf tools and ball markers. This means you have a quality branded gift that will get noticed, bringing new clients and customers to your business. Each gift comes presented in a quality box or tin, ready to hand out. This saves you time and energy getting ready for networking days and more. Ready to get started? Call now!

If you are looking for the best promotional gifts, either as a token of appreciation to your existing clients or customers, or to spread awareness of your brand, then golf accessory branding is a great place to start. You can have your brand logo or colors put on several of Pitchfix quality golf tool, including many types of divot tool and ball markers. A good promotional gift gives a good impression of your business, and when you give something that is practical as well as well-designed you are onto a winner. Call our team now to discuss your branding requirements.

If you decide to go for our golf branding accessories, you might also like to find out more about branding the packaging too. Not only do Pitchfix excel in making quality golf tools, we also want our packaging to have that premium brand quality. When you give a promotional gift to a client, first impressions are important. All of our golf tools come nicely presented in gift tins or boxes that are made for each type of product. That packaging can also be fully customised with your brand logo or colors. Call us now to discuss your packaging branding options.
Hybrid 2.0
Need a new divot tool? This essential piece of kit is there to help every player keep their putts smooth, and now there is even more benefits when you choose the Hybrid 2.0. Not only is this switchblade divot tool stylish, with is rubberized grip and 17 color options, but it is practical too. As well as repairing the grass on the putting greed for a smooth path to the flag, it has a removable ball marker and integrated pencil sharpener! If you are looking for a cool gift, or want this innovative golf gadget for yourself, get your hands on the Hybrid 2.0 divot tool now!
Find out more about the Hybrid 2.0
Fusion 2.5
Do you enjoy innovative golf gadgets? The Fusion 2.5 divot tool does so much more that fix divots on the putting green. The steel prongs are made using ReparirTecTM technology, so in addition to levelling the turf's surface, it creates a healthy soil structure and lessens impact on the grass roots. The rubberized handles provide a soft yet secure grip, making the Fusion 2.5 easy to use. It also comes with a magnetic ball marker and integrated pencil sharpener, so you can keep your scorecards clear. There are 14 colors to choose from, as well as options to customise. Get the Fusion 2.5 divot tool today!
Find out more about the Fusion 2.5
Multimarker Chip
Are you looking for a golf gift that is sure to put a smile on the face of any player? Or, do you like to try out the latest golf gadgets yourself? The Multimarker Chip is one of those items that will quickly become your go to accessory on the golf course. This poker-style chip holds a ball marker, while on the reverse it can be used as a putting alignment aid. Playing golf with friends? The numbers on the Multimarker Chip can be used as a tee toss! Not just for players, the Multimarker Chip is an excellent promotional gift for businesses, as a brand logo can be displayed on the cap. Find out more abut the Multimarker Chip now!
Find out more about the Multimarker Chip